12 Ways to go from Blank Canvas to Abstract Painting
[social_warfare]
Have you ever sat down to paint only to find that bright white canvas mocking you and almost paralyzing you with fear? Abstract art seems so simple when you look at it. When you see them they are so simple, yet painting one is a different story.
Why is it then that getting started on an abstract painting seems to stop the process before it begins? Whether you are a seasoned artist or a beginner, these abstract painting techniques and ideas will help you go from blank canvas to masterpiece in no time!
Play With Different Textures
Texture is everything when in comes to abstract art! When you are going from blank canvas to abstract masterpiece, try blocking in some solid colors and then using various tools to create texture.
Basically anything in the world can be used to make texture, but some artist tools would be sponges, rags and different types of paintbrushes. Try dabbing lightly with lots of paint, and also experiment with lots of paint!
Once you perfect using your artist tools to create texture, try using some household items on your paintings. This could include Q tips, trash bags, paper, sand paper, even leaves! Have fun and go wild.
Abstract Painting Technique: Use a Palette Knife
Palette knifes are used for adding little pieces of color with more texture and less control. Use your palette knife to create abstract blocks of colors and even to mix colors right there on the canvas.
The fun of painting abstract art is that you can play and experiment and you never know what you will get out of it until you try!
Add Some Modeling Paste to your Art
When painting with acrylic paints, Modeling paste is something that is underused. This stuff can provide you with so many different looks!
You can combine modeling paste to different colors to create super thick textured looks. It is so thick that if it is applied too heavily, it can be sanded!
You could also use modeling paste with a patterned stencil under the base of your painting to create a neat effect!
Mix up your mediums
When going from a blank canvas to an abstract work of art, you don't always have to stick with just paint. Abstract painting is about conveying a mood or emotion and sometimes adding a foreign element will help to convey the message.
In your art, try adhering, sticks, leaves, paper or feathers. Find something that symbolizes the emotion you are going for and stick it right in the wet paint! You can also combine different art mediums and tools to bring about a truly unique piece.
Use Gravity as an Abstract Art Technique
There is something so intriguing about drip paintings! For this you would want to create a form using a lot of paint and then saturate your brush in water. Pick a few areas in your object to saturate with water and watch gravity start to take over!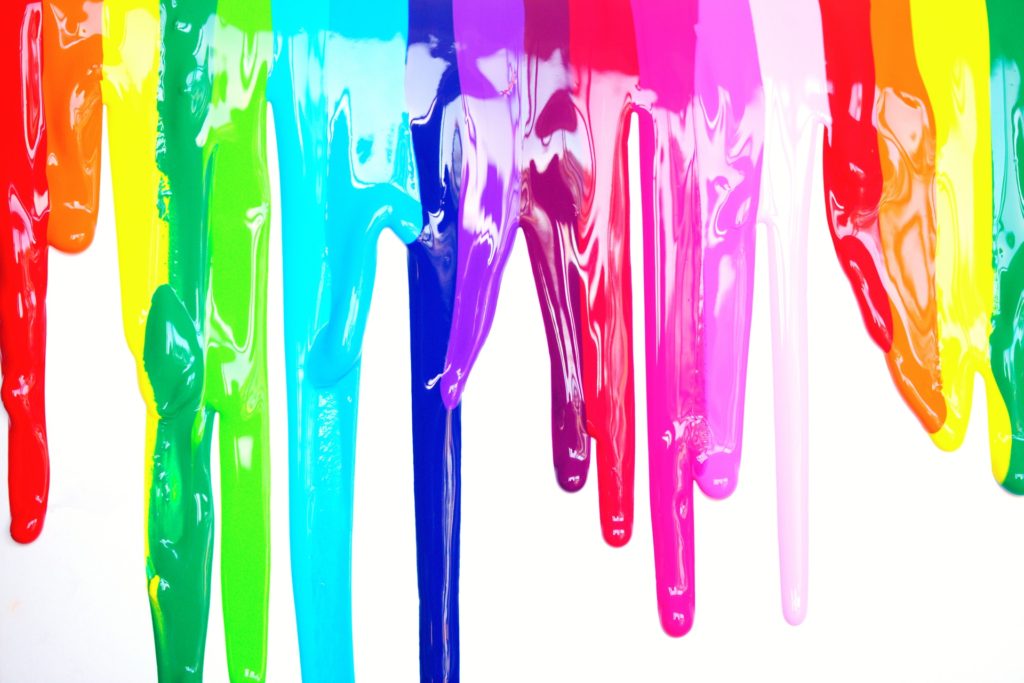 Water is always something fun to use as it can create some amazing blending options as well. Try mixing two colors together in a poll of water and see what magic happens!
Have some Fun Splattering Paint
Most people are familiar with Jackson Pollock and his spatter style of painting. He poured and dripped paint onto a flat canvas.
I am sure every artist would love to just go crazy and fling paint everywhere! The best part is that these paintings also look amazing! Make sure to protect your floors and furniture if you don't want paint on them and then just go to town!
A similar thing to try would be balloons filled with paint, combined with some good old-fashioned dart throwing!
Add Some Salt and Glue to your Masterpiece
When you are going from blank canvas to abstract masterpiece, sometimes you just need something to give your painting a little bit of texture and originality. Luckily, there are two house hold items that can help give your painting some unique marks and bumps!
For this technique, experimentation is your friend as there is no right or wrong way to this. You can start with colors already on your canvas and then add some glue streaks, or you can start with a blank canvas. The glue will repel the paint and create some neat lines in your paintings. Once the painting is dry, you can either leave the glue on or peel it off.
Salt can be used in a similar fashion. You can add it over a wet or dry canvas to create little bumps and bubbles in your painting. Once the paint is dry, you can either rub the salt off, or leave it in the painting. You could also try sand or texture gel (which they sell in craft stores).
Melt some crayons on to your art
There is something so satisfying about melting crayons. The fact that they drip like candles, but have such vivid color makes them so much fun to work with.
To make a crayon drip painting, you can either attach crayons to the top of a canvas and use a hairdryer to melt the crayons and let them drip down the canvas, or you can use a craft iron to smudge pieces of color wherever you would like.
The fun of abstract art is that experimenting can lead to something completely amazing and even if it doesn't; you learned and had fun in the process! If you like melting crayons, you may also want to check out Encaustic art!
Use a Spray Bottle to mist color onto your painting
When you are struggling with a blank canvas, some quick and easy pops of color will really help to bring out your creativity. Once you have a few base colors down, try adding some water and paint (acrylic or watercolor) to a squirt bottle.
Mist the canvas a few times with some complimentary colors and you will soon be on your way to having a unique piece of abstract art.
Paint your Abstract Paintings in the Dark
Sometimes, all you need to get in the mood for painting is a little candle light. When you are painting this ambiance could help to get you into the painting spirit.
Since colors are subdued in the dark, what you think is one color, may turn out to be a brighter more vivid color when the lights are turned on. This exercise is a great way to relax and to get into the painting mood. It will also help to make your abstract paintings even more unique.
Try Dry Brushing
By simply taking a dry paint brush and barely dipping it into your paint and then lightly sweeping your canvas, you can create some unique effects. Dry brushing is an abstract painting technique that can give the look of aging or can break up solid colors adding lots of interest. Why not give it a try?
Do something CRAZY to create your abstract painting
In abstract painting, anything goes. It is time to think with the creative side of your brain and just let go of reality. Get lost in the painting and do something completely crazy. For this, you could try painting blindfolded, or hide what colors you are using until you dab them on the canvas. You could also use your non dominant hand. If you want to get even crazier, try playing with fire, or even using a knife to slash through part of your painting. The point of this is not to ruin your art, but to bring about your emotions and create from deep inside.
I hope these abstract painting techniques give you some ideas for going from blank canvas to masterpiece! The most important thing to do is to let loose and have some fun! Use your painting and tools to really express your true self and learn some cool new ways to go about creating art!
If you would like to get more art tips and inspiration, please take a second to subscribe to my newsletter! My goal is to inspire and get people to create art, no matter their skill level. Skills have nothing to do with the point of art. The point of art is expression and it is so important to let it out!